Indus Alumni Association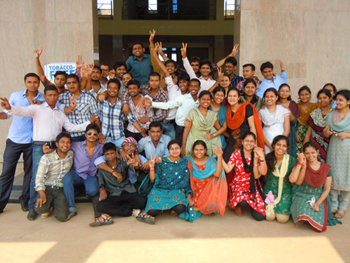 Welcome to the Indus Alumni Association. Our aim is to create a network and maintain a strong alumni association for the overall growth and progress of our Institution.
Indus Group of Institutions has produced leaders, successful entrepreneurs, dedicated employees and what not. We want to bring all these outstanding people together on a single dais. This collective excellence is our contribution to the growing generation, the Institute and the society as a whole. Connect Communicate and Community – keeping this motto in mind, we seamlessly connect with the Institute, faculty, students and fellow alumni.
There is a wide range of ways Alumni can contribute their time and support for the growth and development of the College, including but not limited to:
• Enhance the quality of our students by volunteering in such areas as referrals, master classes, interviewing and selection committees.
• Share your experiences and expertise in the classroom, helping with different student initiatives and career development
Manas Ranjan Mahapatra
Associate Software Engineer
Capgemini
Debasish Priyabrata,
IT Analyst & Transition Specialist
In2IT Technology, South Africa
Aditya Narayan Sahu,
Electrical Engineer,
Megha Engineering & infrastructures Ltd.
Dinesh Biswal,
Sonata Software,Hyderabad
Aliv Kuamr Das,
Tech Tammina pvt. Ltd
Bibek Lahiri,
Cognizant Technology Solutions
Sujit Kumar Pani, Meil,
Megha Engineering and Infrastructure Ltd
Prasant Kumar Barik
Megha Engineering and Infrastructures Ltd
PRATIK GOURAV
Electrosteel Steels Ltd.
SRADHAMAYEE PRADHAN
Indus Group of Institutions
Chinmaya Ranjan Palai
Feedback Energy Distribution Company
Ritu Raj
L&T Technology Services
Litan Parida
Macrologic Innovative Solution
Chinmayee Biswal
Indus Group of Institutions
Pradipta Kumar Singhbabu
Bhusan steel &power limited
Krutiprakash Dalai
kone elevator india pvt ltd
Rajesh Behera
Hyundai India
Soumya Ranjan Biswal
b.n. agarwalla group of Companies
Rashmi Ranjan Samal
RCC INFRA VENTURES LTD
Keshab Kumar
Dell International Services, Noida
Sagar Kumar
M.Tech, Punjab University
Bismay Kumar Dey
Brassoforge, Faridabad
Alok Dwibedy
IBM
Anwesha Chakraborty
TCS
Arpita Nayak
Dell R&D
Balram Swain
Syntel
Chandra Sekhar
Shyam Power
Girisuta Nayak
Syntel
Jasaswi Nandini
Nityo Technologies
Jhankar Mohapatra
HCL
Md Sakir
Reliance Industries
Mrutunjaya Pattnaik
Reliance comm.
Pallab Ray
Wipro
Priyanka De Sarkar
Syntel
Radheshyam Upadhyay
VConnect
Rojalin dash,
IBM
Sagar Nayak
Syntel
Samir Ranjan Parida
Tech Mahinda
Sibatri Roy
Discoverture India
Soumya Nayak
Bank Of Baroda
T. Suman Patra
Capgemini
Brahmananda Das,
Mining Electrical Engineer,
Thriveni Earth Movers PVT Ltd.

To register yourself feel free to contact:


Prof. Sitanath Biswas
Asst. Prof.
Dept. of CSE
E-mail:- sitanathbiswas@indus.ac.in
sitanath_biswas2006@yahoo.com
Mobile:- +91 8093395981